RE-DIRECTION
Career re-direction case management assists injured workers to return to work with a new employer when unable to return to their pre-injury occupation. Edge provides innovative, supportive and effective assistance in circumstances where an injured individual is unable to return to their pre-injury occupation.
VOCATIONAL ASSESSMENT/COUNSELLING
The Vocational Assessment process assists an individual to identify realistic and achievable employment options based on their level of education and training, prior experience and aptitudes which are measured via psychometric testing instruments. These may include vocational interest surveys, personality assessments and IQ tests.
The Vocational Assessment process provides information such as:
capacity to return to similar employment
capacity for alternative employment with current work skills and injury impairment
capacity to undertake further appropriate courses and/or retraining
possible future employment prospects with or without retraining
whether any vocational rehabilitation assistance could improve the injured worker's prospect of returning to wor
JOB SEARCH SKILLS
Our Job Search Skills Training program assists individuals to acquire job seeking competencies such as résumé preparation, interview technique, cover and expression of interest letter writing, and personal presentation skills.
This training develops the individual's abilities in areas such as addressing key selection criteria, disclosing their injury (when appropriate), confidently discussing gaps in their employment history, responding to interview questions and promoting their best attributes in a panel interview context.
At the conclusion of the Job Search Skills Training program, a job seeker will have gained valuable skills and independence in their ability to identify suitable vacancies or potential employers, express their interest in the potential role and apply and interview for the relevant position with positive results.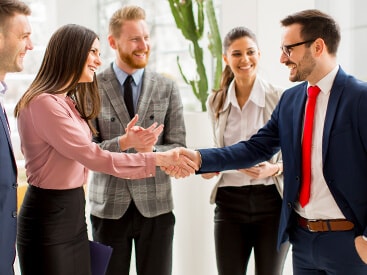 Let our professional team help you recover
Edge People Management's team of experienced injury management consultants can assist in solving the problems and overcome the barriers that may prevent an injured worker from returning to productive employment through strategic resolution practices.
"I'm so grateful to have had Sian by my side throughout the past few years. She made such a difference to my recovery with her empathy, patience, kindness and action. You are very lucky to have her on your team, as was I. Thank you."
"Thank you Paul, very very happy with all the work you did for me."
"I would like to thank Rochelle for her very professional approach. Rochelle was very efficient in every aspect of my rehabilitation, and I couldn't have asked for a nicer person. I will certainly recommend Edge if the need arises."
"Sian has been outstanding in all my dealings with her. Very calming and understanding whilst being professional and strong. I take this opportunity to sincerely thank Edge for assisting me in this process which at times was very hard for me to bear."
"I truly appreciate all Rochelle and Edge have done for me. Rochelle is very professional and always lifted my spirits when we met. Cannot thank you enough"
"Extremely happy with service provided from the very beginning till the end. Couldn't ask for a more dedicated company to assist with a recovery journey. I would have been totally lost if it wasn't for Paul. He's incredibly knowledgeable and continuously helped in every aspect and I'm very grateful. Thank you for all your hard work and help through everything."
"Paul Namovski went above and beyond in his professional services to my rehab development"