OPPORTUNITY FOR EMPLOYERS AND WORKERS
Following injury, a worker may be unable to return to their pre-injury occupation either temporarily or long term. This problem can be resolved by trialling a worker in a new vocation. A work trial assesses suitability of employment and helps to facilitate a successful return to work outcome. Labour market research is used in conjunction with this to further indicate the suitability of employment options for the worker. Edge People Management will access a work trial for the worker and monitor the trial to completion. We support both the worker and the host employer to enhance work trial outcomes.
PLACEMENT SERVICES

To enhance a worker's prospective return to the workforce, a work trial can be organised to assess a worker's capacity to work, as well as give them confidence to return to a productive working environment. The process of sourcing 'host employers', i.e. suitably placing a worker into a physically appropriate job role and supervising their progress, is termed placement services. Edge People Management provides placement services to complement its extensive range of injury management products.
JOB SEARCH SKILLS
Our Job Search Skills Training program assists individuals to acquire job seeking competencies such as résumé preparation, interview technique, cover and expression of interest letter writing, and personal presentation skills.
LABOUR MARKET RESEARCH
Labour Market Research involves conducting an investigation into the status of the labour market to assess such current factors as job availability, remuneration, demographics and training requirements of positions. The results of this research allow parties concerned to draw informed decisions toward practical outcomes.
BENEFITS TO HOST EMPLOYERS
Edge People Management canvasses potential employers to host work trials, presenting them with the following benefits:
A 'free' pair of hands in the workplace
An opportunity to assist a person to re-enter the workforce
Ability to assess a potential employee prior to formal employment
No obligation placement
BENEFITS TO WORKERS
Along with assessing their physical capacity to perform in an alternative job role, the following benefits exist for workers in the undertaking of a work trial:
Gaining practical experience and a current reference
Determining what the job involves
Gaining confidence to search for further employment
Developing new skills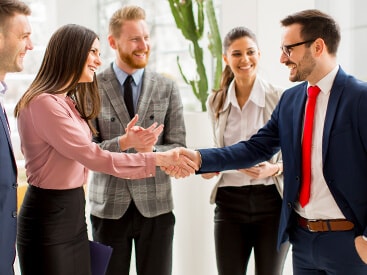 Let our professional team help you recover
Edge People Management's team of experienced injury management consultants can assist in solving the problems and overcome the barriers that may prevent an injured worker from returning to productive employment through strategic resolution practices.
"I'm so grateful to have had Sian by my side throughout the past few years. She made such a difference to my recovery with her empathy, patience, kindness and action. You are very lucky to have her on your team, as was I. Thank you."
"Thank you Paul, very very happy with all the work you did for me."
"I would like to thank Rochelle for her very professional approach. Rochelle was very efficient in every aspect of my rehabilitation, and I couldn't have asked for a nicer person. I will certainly recommend Edge if the need arises."
"Sian has been outstanding in all my dealings with her. Very calming and understanding whilst being professional and strong. I take this opportunity to sincerely thank Edge for assisting me in this process which at times was very hard for me to bear."
"I truly appreciate all Rochelle and Edge have done for me. Rochelle is very professional and always lifted my spirits when we met. Cannot thank you enough"
"Extremely happy with service provided from the very beginning till the end. Couldn't ask for a more dedicated company to assist with a recovery journey. I would have been totally lost if it wasn't for Paul. He's incredibly knowledgeable and continuously helped in every aspect and I'm very grateful. Thank you for all your hard work and help through everything."
"Paul Namovski went above and beyond in his professional services to my rehab development"